IV Therapy is a delivery method for fluids and medications/vitamins administered through the veins. We have developed some of the best IV drips that contain essential vitamins and minerals and antioxidants that can be delivered directly into the vein, they are available immediately for Fuse by the body with 100% bio-availability! If you're looking to rehydrate, recover, or rejuvenate, call us today to get on the road of optimal wellness!
Amino Acids: form the building blocks of involved in growth and development, healing and repair, normal digestion and providing energy for your body (Gb thine, Arginine, Lysine, Citrulline, L-Carnitine)
B-Complex: helps keep skin and blood cells healthy and convert nutrients into energy (Thiamine (E31), Riboflavin (B2), Niacin (B3), Dexpanthenol (BS), Pyridoxine (B6), Biotin (B7), Folic acid (89)
Magnesium Chloride: can help improve immunity, decrease risk of developing migraines, improve relaxation and more.
Calcium Chloride: helps promote healthy bones and the normal functioning of muscles nerves and cells in the body.
Vitamin C: can act as an antioxidant that may help protect cells from free-radical damage absorb iron, create collagen and boost immunity. Also useful in high doses for various illnesses.
B-12: Supports a healthy nervous system, boosts mood and energy levels, helps prevent memory loss, can decrease risk of heart disease, can help aid in weight loss (Methylcobalamin, hydroxocobalamin, cyanocobalamin)
Zinc Chloride: used to help reduce the duration of illnesses, prevent infection and speed up the body's healing process.
Glutathione: the "Master Antioxidant'. Helps slow the aging -process, brightens skin, increases the synthesis of proteins, and generate and repairs cells. Glutathione helps prevent cancer, strengthens the immune system, and reduces muscles and joint discomfort. Can also help reduce the effects of stress, boost energy, and improve quality of sleep.
L-Carnitine: amino acid that plays a critical role in building muscles, losing weight, and increasing overall stamina. Electrolytes/Trace Minerals: essential blend of minerals, can help reverse the effects of dehydration, remove toxins and replenish vitamins (Manganese sulfate copper gluconate, sodium selenite)
1. Dehydration
2. Myalgia (muscle pain)
3. Fatigue
4. Recovery
5. Hangovers
6. Athletic performances
7. Nausea
8. Hair/Nail health
9. Weight loss
10. Improve immune system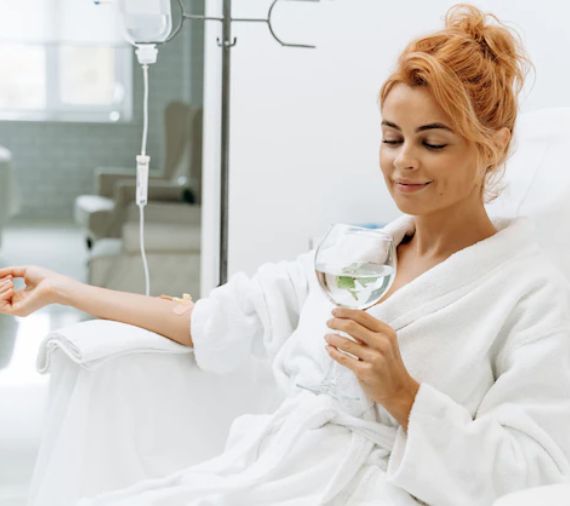 Easy and Convenient
If you are feeling unwell, you probably don't want to head to the hospital or your doctor's office unless necessary. For many common symptoms, IV therapy is an easy and convenient option. IV therapy is not a complicated procedure. You don't even have to leave your own home to undergo IV therapy. We come to you whether you are at home, work or at hotel!
Health and Wellness
For the most part, IV therapy is used to promote health and wellness. The specialized infusions of fluids that we have created offer vitamins and minerals that can help support a healthy immune system, promote healthy skin, keep you hydrated, relieve pain, increase energy and decreasing hangover symptoms
Add ons
Ondansetron (Zofran) – medication the treats nausea and vomiting
Toradol – NSAID that helps decrease swelling, pain and fever Glutathione- Powerful antioxidant that generates and repairs cells
Vitamin C – Antioxidant that generates and repairs cells
Lipo-C -Lipotropic methionine, inositol, choline, L-carnitine, thiamine, Dexpanthenol that enhances your metabolism, and helps promote weight loss.
Weight loss/Metabolic Mixture
This program consists of 2 infusions twice a month and 4 injections once a week. The infusion consists of: magnesium, zinc, B-complex, vitamin C, glutathione, alpha lipoic acid. The injection is given IM weekly: Lipo-C $550/month for the package
The Immune Support
Do you want to boost your immune system during the crazy time we are in?? Or you just want to get over your illness quicker so you can get back to work? This infusion helps decrease symptoms of a cold by boosting the immune system.
Magnesium, calcium, B-12, B-complex, vitamin C, zinc $190 OR 3/$520
The Ultimate NAD+ Brain Reboot
NAD+ is a critical coenzyme that is found in every cell of our body and it's involved in hundreds of metabolic activities! Helps with clarity and focus, restore muscle strength and function, aids in weight loss regimen, reducing fatigue and increasing energy levels.
Nicotinamide adenine dinucleotide
250MG: $250 OR 3/$669
500MG: $500 OR 3/$1349
The Beauty Enhancement
Do you have signs of aging or is your hair thinning and not full as it used to be? This infusion helps fight aging effects, improve hair, joint and strengthen bones, aids in detoxifying the body.
Magnesium, calcium, B-12, B-complex, vitamin C, biotin, Glutathione
$195 OR 3/$525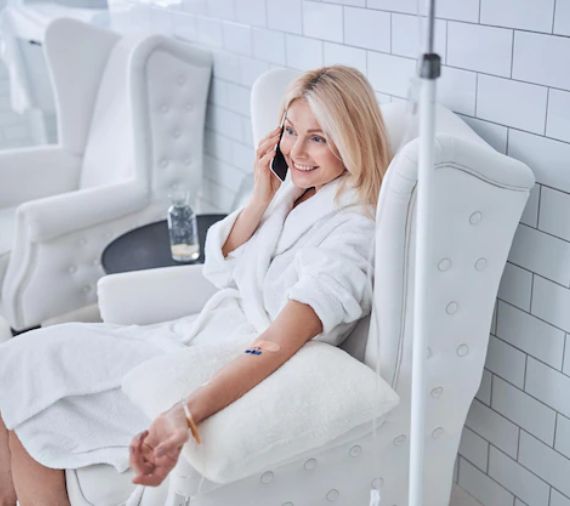 Duration: Approximate 60 minutes Prepare for a treatment which will leave you feeling rejuvenated and your mind feeling calm. Our fully licensed trained professionals will help you achieve optimal wellness.
Myer's Cocktail
Gold standard for comprehensive wellness. May address a variety of issues including: hangover and headache relief, cold & Flu symptoms, chronic fatigue, brain fog, immune system strengthening, anti-aging, and increased athletic performance and recovery.
Vitamin B-12, B-complex, magnesium, calcium, vitamin C
$169 OR 3/$449
Pain Relief
Pain or discomfort can be debilitating and put your life on hold. Get your life back with this infusion! Helps with migraines, headache or generalized pain.
Magnesium, calcium, B-12, B-complex, vitamin C, ketorolac, dexamethasone, zofran if needed $190 OR 3/$520
The Hangover Cure
Party too hard last night and feeling the effects today? This * has added prescription strength medicine that will get you feeling better in no time! Helps alleviate symptoms of nausea, headache, dizziness and vomiting and rehydrate you!
Magnesium, calcium, B-12, B-complex, vitamin C, famotidine, ketorolac, zofran, dexamethasone.
$185 OR 3/$505