Enhance the appearance of your skin with HydraFacial
Have you heard the term microdermabrasion? Microdermabrasion is a procedure that is done on the skin to remove the outer layers of skin. The microdermabrasion treatment gets taken by people who wish to improve the appearance of their skin. Hydra-Dermabrasion is one such technique where the power of water gets used to make the skin hydrated.


Elite HydraFacial is a hydra-dermabrasion procedure or, to be specific, the only hydra-dermabrasion procedure that uses technology to cleanse and hydrate our skin. Not all spas can offer HydraFacial as it is a branded experience and require registering and licensing. Elite Spa is registered and authorized to provide HydraFacial.
HydraFacial is a skin treatment process that involves three steps: deep-cleansing of skin, exfoliate the skin, and hydrating the skin. It is a professional procedure that gets used for treating varieties of skin conditions like dryness of skin, wrinkles, acne. A mechanized wand gets used for deep cleansing of skin and exfoliation along with serums especially customized for your skin according to your skin type. Professionals do the whole process at Elite Spa, and you will get promising results.
How does HydraFacial treatment work?
A HydraFacial usually gets done by a licensed aesthetician or a trained dermatologist.
There are usually three steps involved in the process of HydraFacial:

A mechanized wand is used against your skin to remove and clean the oil and dirt from your skin's pores by going deep into the skin and exfoliate your skin; a peel gets used.
Debris usually stays in your pores, and to remove the debris, a vacuum-like attachment is attached to the wand.
The next step is moisturizing your skin with serums along with antioxidants. A pen-like structure gets used for moisturizing.
A HydraFacial often follows few add-ons. The add-ons could be other skincare treatments like light therapy.
Benefits of HydraFacial:
The HydraFacial treatment gets done to improve skin tone, the texture of the skin, and the overall appearance of the skin. It happens due to the in-depth exfoliation process that cleanses the pores and lets the customized serums penetrate better on the skin.
Is HydraFacial beneficial for acne? Microdermabrasion techniques have got proven to give effective treatment for acne and acne scars. Hence, the HydraFacial can get done for treating acne as it removes the pore-clogging skin cells by exfoliation.
Is HydraFacial beneficial for blackheads? Blackheads get caused by dead skin cells. Hence, the same method of exfoliation can help in removing blackheads.
Is HydraFacial beneficial for anti-aging concerns? HydraFacial can help in decreased signs of skin aging, less hyperpigmentation, reduced pore size.
HydraFacial side effects, DO's and DONT'S
HydraFacial has no such side effects or complications. It is a simple procedure free of complications. People often say that they face pain or redness of the skin after cosmetic treatments, but HydraFacial never causes any of these complications. We recommend you avoid this treatment if you have any active rash.
How often should you get a HydraFacial done?
Our specialists at Elite Spa recommend you to repeat the treatment sessions every two weeks to 4 weeks on average. Usually, after examining your skin condition and your goals, how you want your skin to be, how much you want to enhance the appearance of your skin, our specialists recommend you the actual required number of sessions and the frequency of sessions.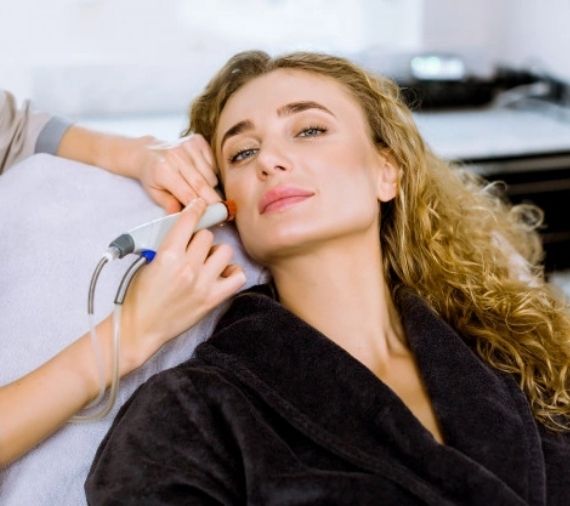 HydraFacial Prerequisites and Aftercare
This question gets commonly asked as people are mostly used to chemical peels and other cosmetic treatments, which often puts few restrictions on your average daily life activities. However, each session of HydraFacial takes an hour to get done. There are no prerequisites. Unlike other treatments, everyday activities can get resumed right after the HydraFacial is done.
We recommend not getting any extra exfoliation treatment as the HydraFacial includes exfoliation. Having additional exfoliation treatments can cause opposite results and redness of the skin. Our specialists at Elite Spa guarantee you to not experience any redness of the skin after your session. All you have to do is to avoid exfoliation treatments after your session.
HydraFacials usually are costlier than other types of facials. However, Elite Spa values their customers and always has customized affordable packages and offers.
Don't let your skin lose its glow. Don't let your facial scars and marks embarrass you. Why get embarrassed when we are here to help you out? Just book your session with Elite Spa or call us (727)-505-4997 as soon as possible and get promising results with the help of our specialists.