Elite Microneedling RF Truths
Microneedling is hot – and for good reason – but let's clear up several misconceptions.
At Home Microneedling RF Does Not Deliver the Same Anti-Aging Benefits
Manufacturers of at-home microneedle rollers often claim that their devices are just as effective as the state-of-the-art versions used by dermatologists. Don't fall for it. Lana & her trained. Board-certified staff utilize top-of-the-line medical grade versions that aren't safe or acceptable in the hands of an untrained practitioner (weather at home or at doctor's office).
Furthermore, because the at-home microneedling procedure uses a lesser quality device, you don't get the same beautiful results.
Microneedling Does NOT leave Holes in Your Skin
Microneedling RF treatment does create controlled injuries in the skin, but it does not leave your face resembling on aerated front lawn. The needle punctures are so small that, unaided, no one can soon.
The purpose of creating these microscopic punctures is to stir collagen growth so you heal faster and look more youthful, which is why you are considering the procedure in the first place.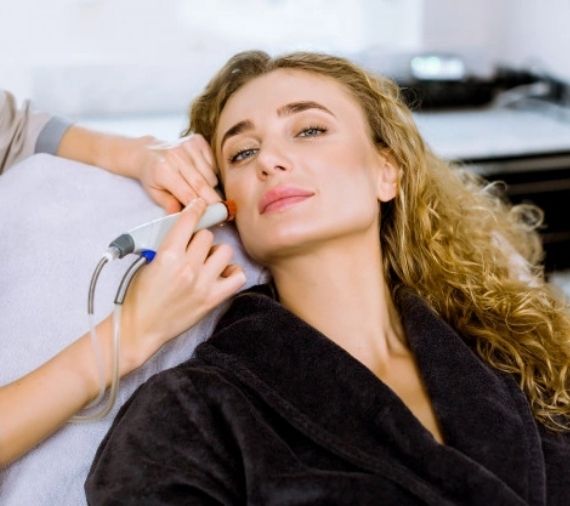 Safe & Effective for Areas Around Your Eyes and Lips
Another reason to trust microneedling RF treatment only in the hands of an expert practitioner Lana in Florida is that it's necessary for these delicate areas. As a result, several microneedling tools come equipped with special rollers for use in the following sensitive areas:
Not Just Anti-Aging Benefits
It's true that the majority of patients seek microneedling RF treatment for its anti-aging benefits like smooth, tout skin and a less wrinkled appearance, but it also corrects scaring due to acne. The collagen that the procedure creates helps fade your scarring. The result is the restoration of your flawless skin!
The Skincare Effects of Microneedling RF
The conceptual framework for this latest beauty trend has been around for nearly five decades, but only in the last few years has technology caught up. Finally, microneedling RF treatment can deliver anti-aging benefits without pain – and this news is spreading like wildfire. The secret is ultrafine needles that puncture your skin to make very tiny wounds. As your skin heals from these wounds, your body's collagen production soars, resulting in tout skin. Surface scarring is eliminated and fine wrinkles are softened, if not erased.
Simply put, it's the only dermatology treatment that lightens your skin while also reducing your wrinkles at the same time.
To make you comfortable before the procedure, you'll be given a topical numbing agent for the area to be treated. Then the microneedling device, outlined with the cluster of needles, delivers several dozen pricks about three millimeter deep into your skin. The device also shoots radio frequency energy into your skin to treat scars & wrinkles and yield a fuller, more youthful look. Together, the needles and heat energy stimulate your skin into creating new collagen hyaluronic acid, which help repair tissue and hydrate your skin, respectively. One session is about 20 minutes, and a minimum of three sessions is recommended for optimal results. It's common, as well, to undergo touch-up procedures to maintain your appearance.
Although microneedling procedure is extremely safe, some mild side effects are to be expected. Many patients report a slightly uncomfortable yet tolerable experience. Redness and swelling around the treated part is not unaccepted, either, though both should only be mild. Your face might also feel warm, as if you have a sunburn.
Minimal pain - No Downtime - Safe for dark skin
Elite Microneedling RF Applications
Wrinkle Reduction
Scars/ Acne Scars
Pores
Face Lifting
Skin Tightening
Stretch Marks
Advanced Technology
Non Insulated Needles
Stepping Motor Type
Gold Plated Needles
Precise Depth Control
Safety Needle System
Elaborate Needle Thickness